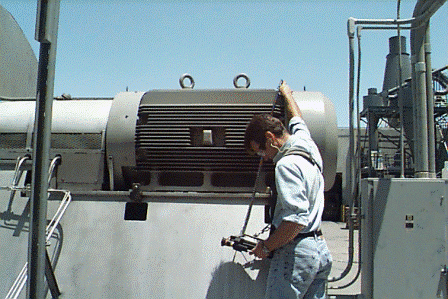 Vibration Analysis
One of the earliest signs of a machine failure is the propagation of vibration. These problem vibrations are present even when a machine sounds and feels normal and long before it is near failure. By examining the vibration frequency and amplitude, using a technique called vibration spectral analysis, we can determine if a machine is in a failure mode and if so, the severity of that failure.
The analysis of machinery vibration can detect and identify many machine faults. In fact, the detection of these faults can often be at the earliest stages of these problems. Giving you the time needed to complete repairs on your schedule, not the machines schedule. Not to mention, the elimination of catastrophic failures.
Types of faults identifiable using vibration analysis:
Imbalance
Belt Misalignment
Coupling Misalignment
Looseness
Resonance
Bent Shafts
Cocked Bearings
Lubrication Faults
Flow Turbulence
Worn Impeller

 

Anti-friction Bearing Fault
Inner Race
Outer Race
Ball/Roller
Cage
Cracked Gear Teeth
Broken Gear
More.......